Hello Seedling Branding and Packaging Project
Hello Seedling was born through the inspiration of the Austrian wildflower meadows and Annelyse the founder wanting to bring that same vibrance to Australia. They produce wildflower seed bombs and floral garden stakes.
Brand Design | Product Packaging | Marketing Materials
Industry: Home and Garden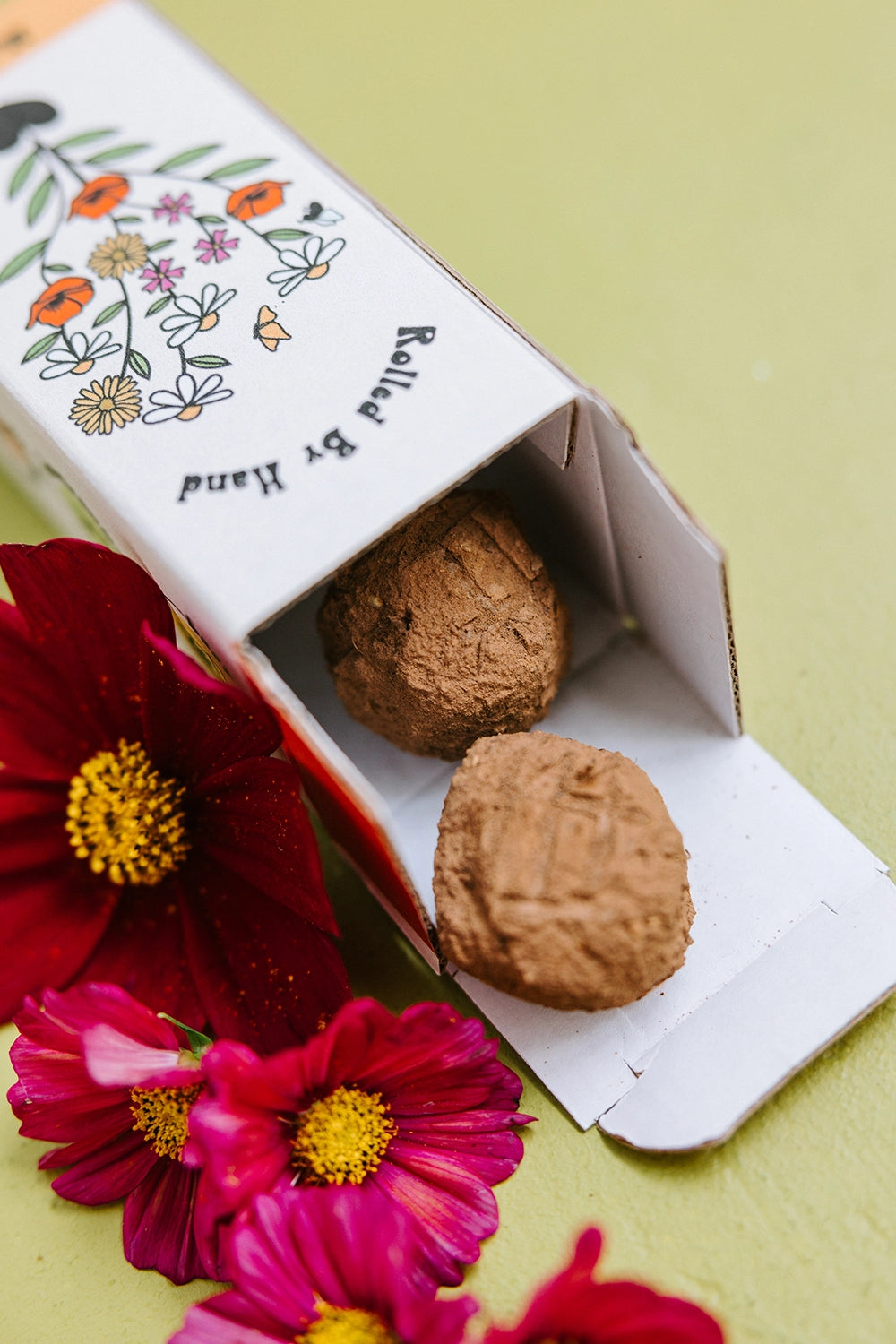 Core Brand Strategy
As the brand designer for Hello Seedling, our journey began with a profound appreciation for Annelyse's vision—to infuse the vibrant essence of Austrian wildflower meadows into the heart of Australia. Embracing the whimsical and hand-illustrated floral logo, our core brand strategy unfolded, translating the founder's inspiration into a visual language that resonates across every touchpoint.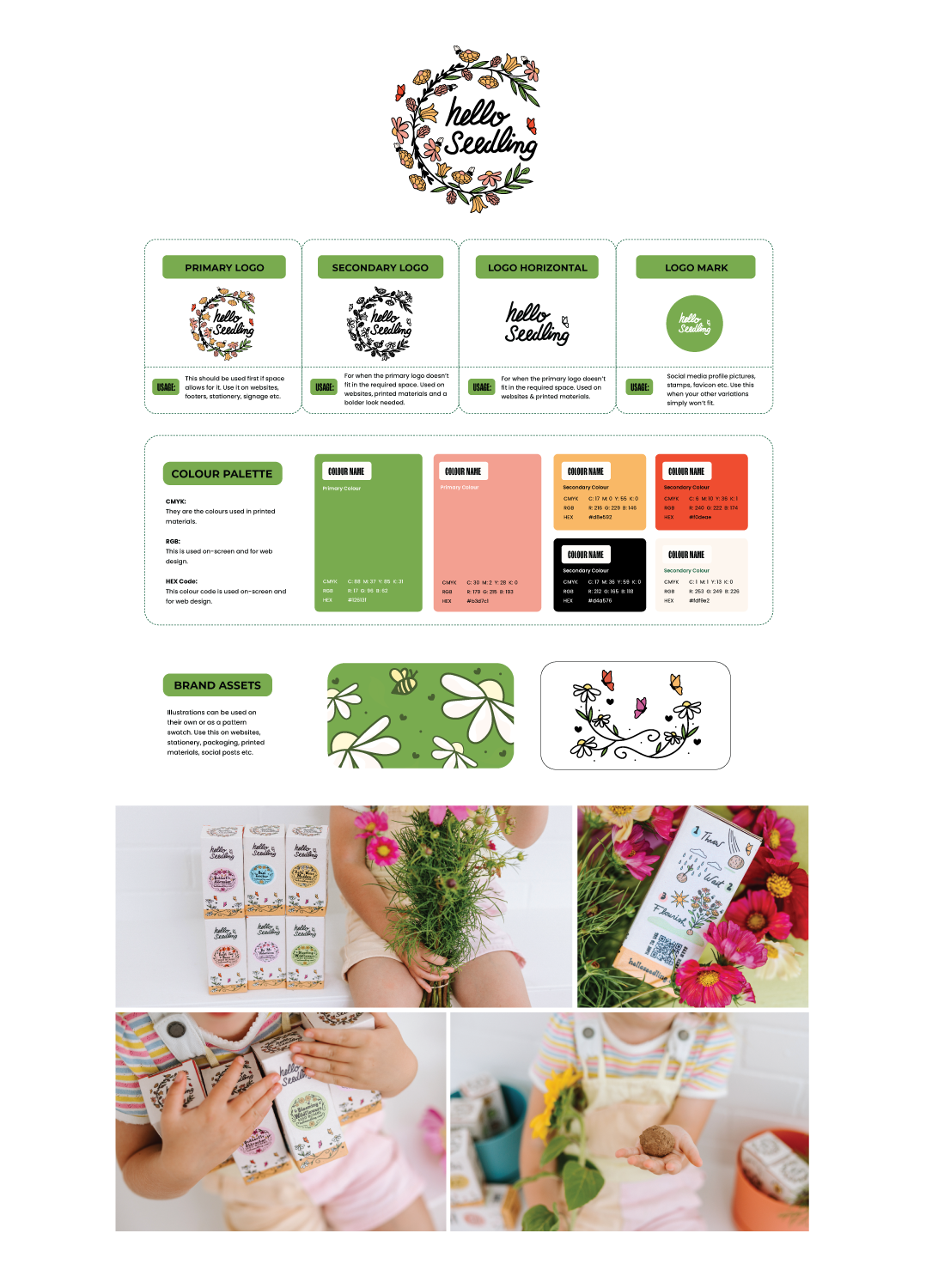 Logo & Brand Guidelines
The heart of Hello Seedling lies in its logo—a hand-illustrated, whimsical floral emblem. Crafted with meticulous detail, the logo captures the very essence of the Austrian wildflower meadows that inspired Annelyse. It's a blooming testament to Hello Seedling's mission to spread wildflowers and environmental sustainability. We chose bright colors and a very whimsical approach since seed bombs are perfect for kids.
Packaging and Branded Materials
My role as the brand designer extended to various facets of Hello Seedling's visual identity. The packaging became a canvas, mirroring the floral whimsy of the logo and creating an instant connection with the Austrian inspiration. Every piece of branded material echoes the handcrafted, whimsical allure of Hello Seedling, fostering a sense of connection with its Austrian roots.
Quote
I loved working with Shiloh to create my brand - she is so creatively talented and her work always has a beautiful nod to mother nature. She turned my logo around in a week & I am constantly getting complements on it!! Highly recommend.

Annelyse
Ready to Level Up Your Branding?
Please fill out the form below and I'll follow up within 48-hrs to discuss the next steps.
What You Can Expect
A Proven Process

I've worked with over 100 small business owners just like you. I will guide you through my design process that has proven results.

A Collaborative Approach

No one knows your business better than you. I will communicate with you about every step of your design project to ensure you get results you love.

Personal Service

I work as the creative director and project manager on every single design project at Graphic Heart. You can expect personal attention from your actual designer.
What My Clients Are Saying
Shiloh was such a pleasure to work with. She listened to my vision and created a beautiful logo that aligns perfectly with my new business. She was timely in her responses through email and made the process as smooth as possible. I highly recommend Graphic Heart Design Studio.

Maura 

We won our first million dollar project after Shiloh redesigned our marketing materials. We couldn't be more thrilled!

We've gone from around 5,000 monthly visitors to around 30,000 monthly visitors after our website redesign. Shiloh did a great job getting to know our business and adding the right keywords.