Build Together Branding Project
Build Together is a consultancy that provides advice to everyday first home builders on how to resolve disputes, the process of residential construction and construction contract terms. Located in Australia.
Branding Project
Industry: Construction, Project Management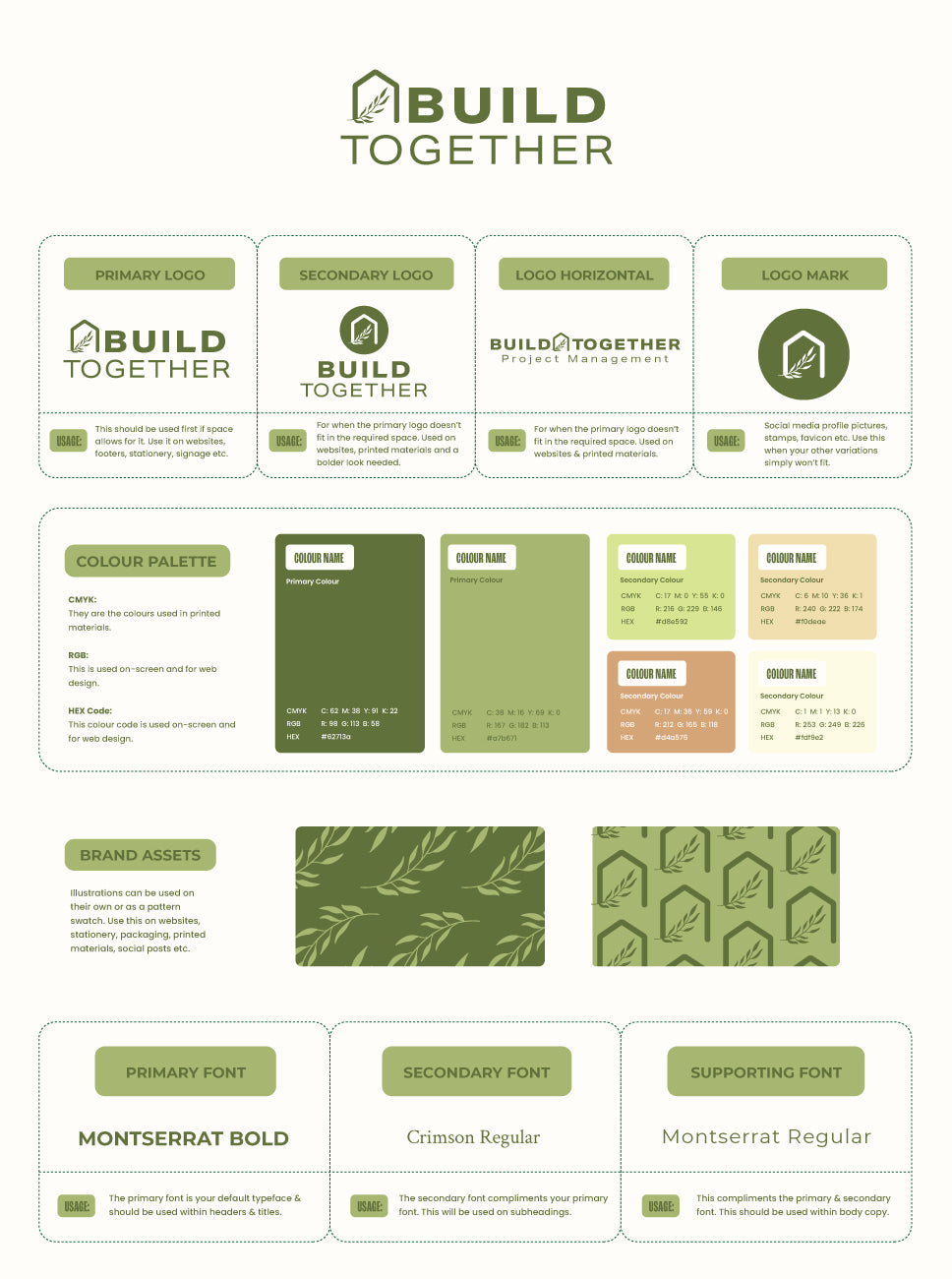 Core Brand Strategy
House Shape:
The house shape in the logo symbolizes more than just construction; it represents the dreams, aspirations, and the very essence of a home. It's a visual reminder of the foundation to help first home builders establish – a solid and secure start on their homeownership journey.
Organic Feel:
Our choice of an organic feel in our brand identity echoes the natural, ever-evolving process of building a home. It reflects the idea that just as nature evolves, so do the needs and desires of first home builders. 
Olive Branch:
The olive branch in the logo is a powerful symbol of peace and goodwill. It represents our commitment to fostering harmonious relationships and resolving disputes in the construction industry. At Build Together, they strive to bring tranquility to an otherwise complex and challenging process.
Quote
Thank you so much as always Shiloh👏🏼👏🏼👏🏼👏🏼👏🏼 your designs give the best start to my business ventures ❤️
Ready to Level Up Your Branding?
Please fill out the form below and I'll follow up within 48-hrs to discuss the next steps.
What You Can Expect
A Proven Process

I've worked with over 100 small business owners just like you. I will guide you through my design process that has proven results.

A Collaborative Approach

No one knows your business better than you. I will communicate with you about every step of your design project to ensure you get results you love.

Personal Service

I work as the creative director and project manager on every single design project at Graphic Heart. You can expect personal attention from your actual designer.
What My Clients Are Saying
I've increased my followers from 6k to 24k in 6 months after Shiloh designed my beautiful new brand.

Author

We won our first million dollar project after Shiloh redesigned our marketing materials. We couldn't be more thrilled!

We've gone from around 5,000 monthly visitors to around 30,000 monthly visitors after our website redesign. Shiloh did a great job getting to know our business and adding the right keywords.