Blue Heron Botanicals Branding, Packaging, Marketing, and Website Design Project
Blue Heron Botanicals is a zero-waste skincare brand with clean ingredients and a mission to help our planet. They are top quality, cruelty free, handmade, botanical, sustainable & woman-owned.
Migrate to Wellness. One Planet. One Body. They Care For Both.
E-Commerce Website | Brand Design | Product Packaging
Industry: Skincare, Beauty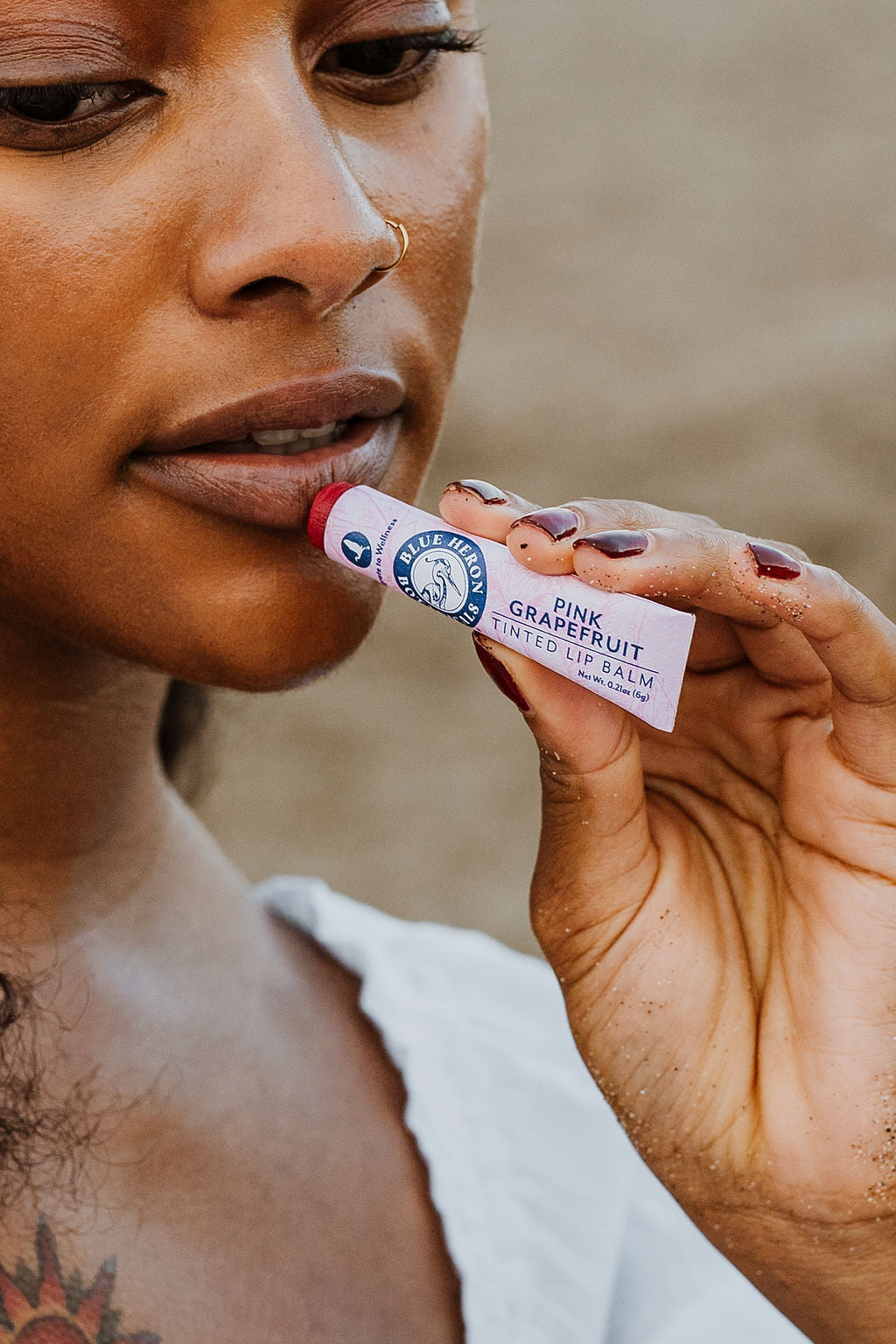 Core Brand Strategy
In our decade-long collaboration with Blue Heron, we embarked on a transformative journey to refresh their brand while preserving its timeless charm. Our approach was deeply rooted in the values that Blue Heron has upheld for years, with a focus on sustainability—a hallmark of their identity. We used these values to form the pillars of our brand foundation, shaping every subsequent design and assisting in their communication strategy.
The project included: Revamping their logo, crafting designs for branded materials, designing a wholesale catalog, designing branded tradeshow booth materials, product packaging, and a new e-commerce website.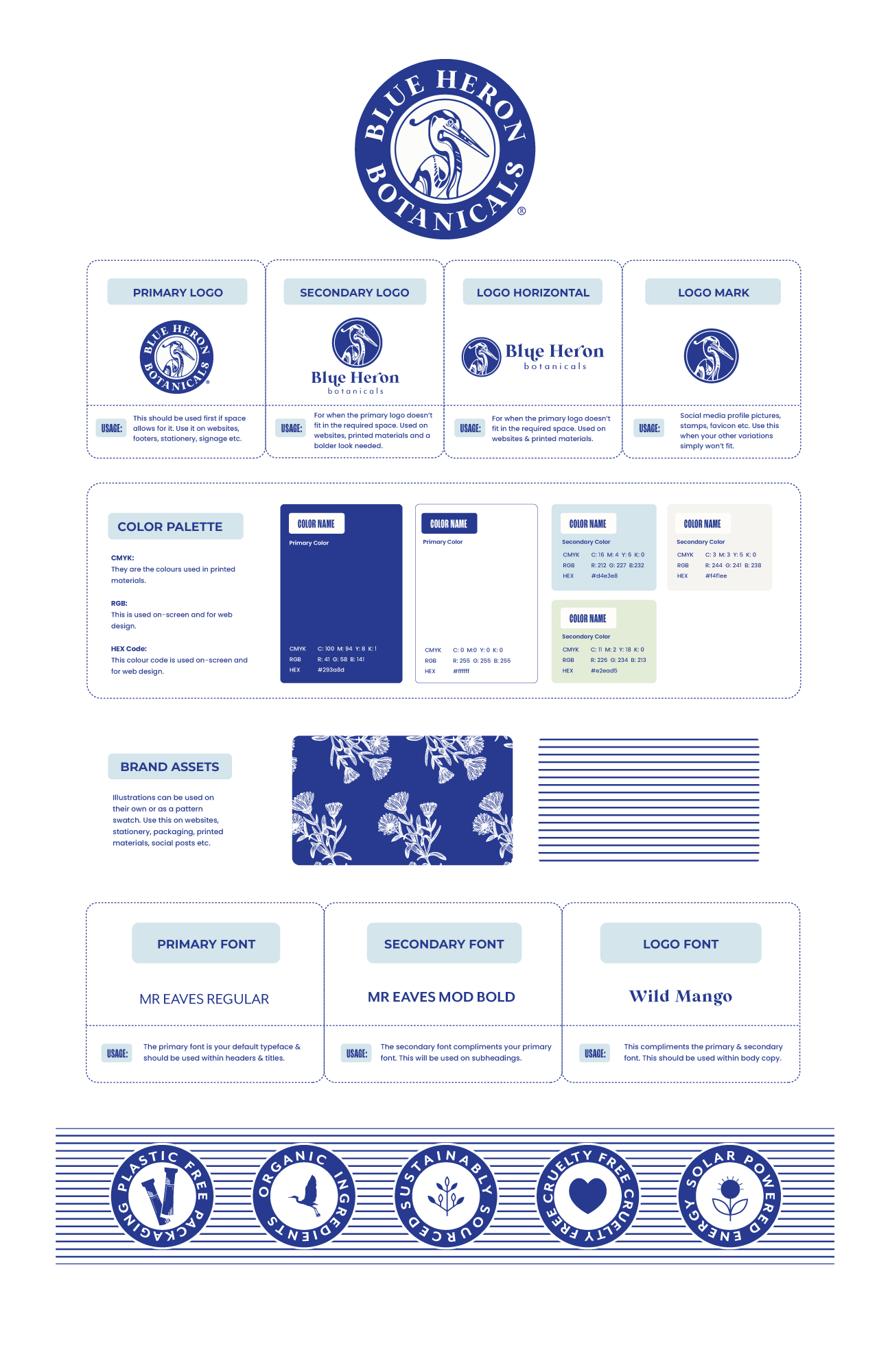 Logo & Brand Guidelines
With the brand refresh, Blue Heron aimed for a more upscale and modern appeal, while staying true to its roots of approachable sustainability.
We went with a more simplified and bold main color palette along with stripes and botanical graphics to add a high-end beachy yet botanical feel.
The new logo serves not just as a visual identifier but as a symbol of Blue Heron's commitment to quality and eco-conscious practices. It's a blend of heritage and contemporary ethos, reflecting the essence of the brand.
Branded Materials: Catalog, Booth, Packaging, and Website
As the designer, my role extended across various touchpoints. I crafted designs for branded materials, weaving the new narrative seamlessly into every element. Thier product packaging underwent a transformation, introducing hierarchy and a color system change to enhance product differentiation. The e-commerce website, a digital storefront, was conceptualized to mirror the modern sustainable vibe while providing a seamless shopping experience. blueheronbotanicals.com
This brand refresh for Blue Heron isn't just about design; it's a narrative crafted with intention, bringing sustainability to the forefront while enhancing the brand's allure in a modern context. It's a celebration of a decade-long partnership, culminating in a visual identity that not only reflects Blue Heron's past but propels it into a sustainable and sophisticated future. 
Quote
I have been searching for the right graphic designer for years trying to get my project and vision off the ground. As a natural skincare company, I needed someone that actually had time to work on my project for the long haul as well as an understanding and experience in product branding. I had no idea how hard it was to find someone that really understood my vision and branding! Shiloh is amazing! She is extremely professional, easy to work with.

Theora
Ready to Level Up Your Branding?
Please fill out the form below and I'll follow up within 48-hrs to discuss the next steps.
What You Can Expect
A Proven Process

I've worked with over 100 small business owners just like you. I will guide you through my design process that has proven results.

A Collaborative Approach

No one knows your business better than you. I will communicate with you about every step of your design project to ensure you get results you love.

Personal Service

I work as the creative director and project manager on every single design project at Graphic Heart. You can expect personal attention from your actual designer.
What My Clients Are Saying
We've gone from around 5,000 monthly visitors to around 30,000 monthly visitors after our website redesign. Shiloh did a great job getting to know our business and adding the right keywords.

We won our first million dollar project after Shiloh redesigned our marketing materials. We couldn't be more thrilled!

I've increased my followers from 6k to 24k in 6 months after Shiloh designed my beautiful new brand.

Author