Ashley's Seafood Branding, Packaging, and Website Design Project
Wildly Traceable Seafood straight from the pristine waters of the Humboldt County and Del Norte region.
Website Design | Brand Design | Product Packaging
Industry: Specialty Food
Core Brand Strategy
Using our brand design strategy, we worked with Ashley's Seafood to build a brand identity rooted in their company values to provide wildly traceable seafood straight from the pristine waters of the Humboldt Del Norte region and a promise to bring you the freshest, sustainably sourced, and wild-caught seafood. From these values, we've revamped their logo, crafted designs for branded materials, product packaging, and a new starter e-commerce website.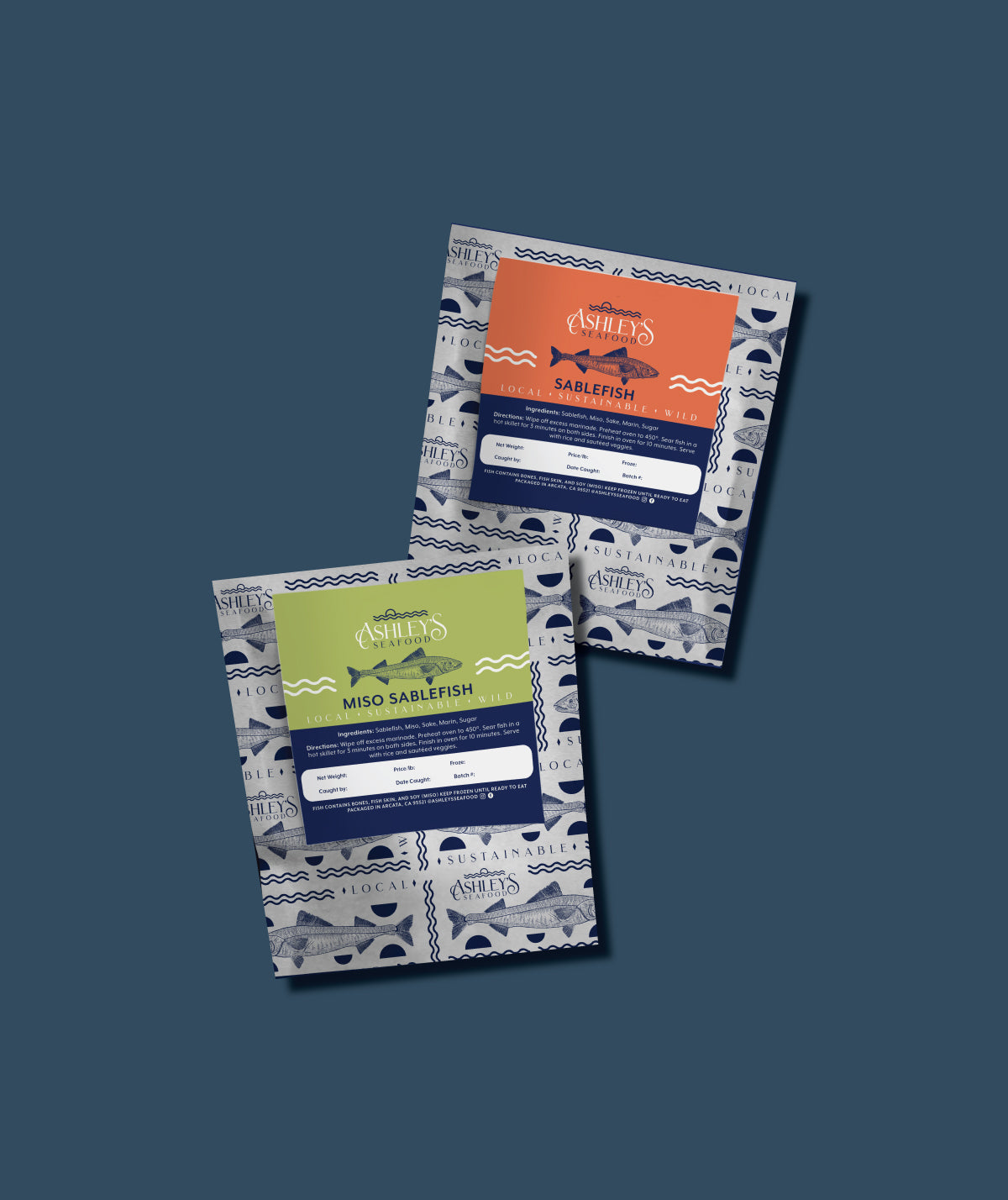 Packaging
In the past, consumers found it challenging to differentiate Ashley's Seafood products in a crowded marketplace. We've addressed this issue by introducing a vibrant and hand-drawn approach to their packaging. The colorful packaging reflects the diversity and abundance of the seafood from their region. We've added hierarchy, organization, and a unique color system to their packaging to make it not only visually appealing but also functional. The packaging stands out on the shelf, just like thier sustainably sourced seafood stands out in the market. It's a tactile representation of Ashley's commitment to making your dining experience exceptional.
Logo Design
Ashley Seafood's logo represents the rugged sophisticated of their business with a nod to the pristine waters they fish in. We helped Ashley come up with several variations of the logo as well as a new color system and icons. 
Quote
"We are pumped to continue working with Graphic Heart from labels to website and rebranding. We couldn't be happier. Thank you so much for all of your help."

Ashley
Ready to Level Up Your Branding?
Please fill out the form below and I'll follow up within 48-hrs to discuss the next steps.
What You Can Expect
A Proven Process

I've worked with over 100 small business owners just like you. I will guide you through my design process that has proven results.

A Collaborative Approach

No one knows your business better than you. I will communicate with you about every step of your design project to ensure you get results you love.

Personal Service

I work as the creative director and project manager on every single design project at Graphic Heart. You can expect personal attention from your actual designer.
What My Clients Are Saying
Shiloh has a great eye for clean, non-fussy design, a welcome sight in today's over-stimulated world. She is professional, personable, and accommodating, no matter what the client needs."


Carrie

We've gone from around 5,000 monthly visitors to around 30,000 monthly visitors after our website redesign. Shiloh did a great job getting to know our business and adding the right keywords.

I've increased my followers from 6k to 24k in 6 months after Shiloh designed my beautiful new brand.

Author